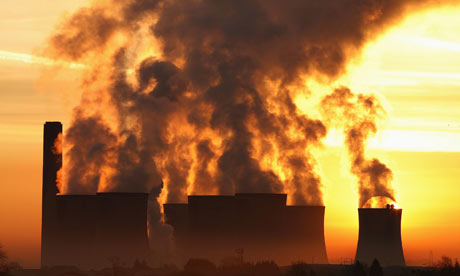 I'm blowing the lid on Australia's inability to make real progress on matters of climate change control (CCC).
The debate has inevitably fallen down along party lines, meaning if you're a Liberal you are a climate change denier, and if you're a pinko communist (Hi, Kev!) you favour a carbon tax (or Emissions Trading Scheme). No, don't argue - it really is that simple.
If you're a Green, do yourself a favour. Put your money down, become a member, and get your arse down to their monthly meetings. You will discover that they are an ineffective political force with absolutely no idea, and can't be trusted with the balance of power in the Senate. End of. Now shut up.
So back to our efforts at CCC.
There can be no doubt that human interference is contributing in some way to our environment and, consequently, our climatic conditions. But let's keep a few things in perspective. Detailed records of global temperatures only extend less than than two hundred years - and even some of those records have to be considered dubious - from the instruments used to measure the information, to the methods used to record them.
Also, I'm something of a keen astronomological observer, when one considers that the single greatest influence on our climate is the proximity of the earth to the sun you have to wonder just what extent human factors are playing on these already rubbery figures.
For those of you that need a little edumacation, the orbit of the earth around the sun is not a perfect circle. Nor is it a perfect ellipse. The vertical axis of the earth as it orbits the sun is also a variable factor from year to year. So global temperatures are going to fluctuate not just on a yearly basis, but on an almost incalculable cycle.
But I'm getting away from the point I was trying to make. If you're a Liberal you are a climate change denier. Of course you are. Penny Wong just said as much on Q&A tonight. Okay, that's a fair enough call. People with a right leaning political persuasion just want to stick their head in the sand and deny (actually in much the same way as I've done above) that anything at all could ever be going wrong.
Well, if that's the charge you levy, how about this? The left side of politics is so bereft of leadership and ideas that they can't possibly solve a problem without whacking a tax, a surcharge, or a levy on the solution. The ETS is typical of this. The Labor Party complain that they can't get consensus on this issue, and now (just like Kev07's brilliant 2020 summit) are calling for another wankfest to solve a problem that the government was charged to do when they were elected.
Maybe I can boil this down for any ALP plants that are trawling my blog for solutions. Show some real leadership and LEGISLATE your CCC solutions. This is the platform you were elected on. But don't complain when the polls slam you when your idea of a solution is to charge people to solve it. Seriously. I could solve the problem of organised crime by taxing everyone and siphoning the proceeds to criminals. I could solve the problem of drink driving by taxing everyone and paying for stretch limos to ferry boozers to and from the pub. I could solve the problem of asylum seekers by taxing everyone, buying a tropical island, and sending illegal immigrants to live scot free in paradisde.
But this doesn't work! Not only doesn't it work, but even the illiterate, retarded, inbred jerks that are the Australian electorate know it.
Here's an idea. Come up with a solution that shows leadership. Come up with a solution that is inspirational. Come up with a solution that is world's best practice. Come up with a solution that is so good the Australian people will embrace it.
Until you do can you please STFU about how everybody that complains that you wanna tax them as a solution is somehow a Dickensian luddite?
Can I also ask, for those that might know a little more about the subject than me, why solar power isn't compulsory for all new residential developments? All the press I've read is of ordinary people, in ordinary homes, selling their excess electricity back into the power grid for profit. I do read that solar power isn't perfect, and that the technology still has room for improvement, but there seems no reason why we can't just destroy the existing paradigm of power companies with a technology that (let's face it) has been around for as long as I've been on the planet.
Anyways - as you were. Until next time.
xxx