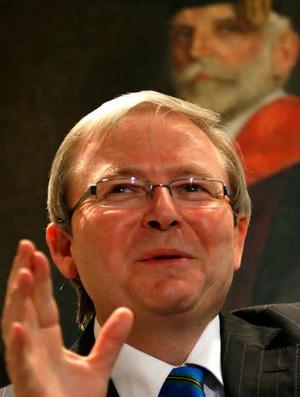 Okay, so I've broken my duck about talking politics. So now the floodgates open. I also figure I can't draw a comment out of my readers to save myself, so if this doesn't fire you all up you can all @#$%-OFF! ;)
Well, it's finally happened.
KRudd's personal persona has spilled into the public domain. I've only seen 'highlights' of the interview on the 7.30 Report, so it
could
have been taken out of context ARF!), but here is an example:
But Mr Rudd said his government had been the hardest working at the Copenhagen conference.
"(Climate Change Minister) Penny Wong and I sat up for three days and three nights with 20 leaders from around the world to try and frame a global agreement," he said.
"It might be easy for you to sit in 7.30 Report-land and say that was easy to do. Let me tell you mate, it wasn't.
This is typical of this fraud. He thinks working three days and three nights straight is 'hard work'. He works his parliamentary staff (by all accounts) harder than any minister (or PM) in history.
I've always been told that businesses need to 'work smarter, not harder', and KRudd is the antithesis of that. His 20/20 Summit was a stunt by a man with no ideas who cannot lead. He substitutes ideas and leadership with endless hours of huffing and puffing and inventing ways to talk without saying anything.
Last night's outburst, coupled with the polls which have turned against him, signals the end for KRudd. He is gawn. Latham styl-e.